Lisa Longball
Peak Performance Keynote Speaker
All Presentations can be Delivered Virtually or In-Person
Drive Determines Distance – Lisa "Longball" Vlooswyk
Lisa Longball Speaker Demo Video
What Drives You?
Being clear and committed to your goals determines how far you will go and what success you are able to achieve. Eight-time Canadian Long Drive Champion Lisa Longball, will inspire and guide you through this process.
Lisa's high energy, passionate personality and positive outlook are the keys to her athletic and life successes. Her effervescent speaking style delights her audiences while her fun, humorous and heartbreaking stories not only motivate and inspire but help teach valuable life lessons and give actionable steps to achieve Peak Performance that can be applied to success in both business growth and personal aspirations.
Keynote Speaking Topics
Drive Determines Distance
E.M.P.O.W.E.R. Not Cower
Golf as a Networking Skill
Golf Instruction from the Stage
On the Golf Course with Convention Attendees
How can you stay at the top of your game and perform at the highest level, year after year?
Eight-time Canadian Long Drive Champion Lisa "Longball" Vlooswyk, went from being a high-handicap recreational golfer to a professional player who hits farther than most men. In her highly-customized presentations, Lisa shows audiences the keys to achieving peak performance.
Lisa's clients have included Telus, IBM, Agrium, Bayer Crop Science, Empire Life, the Canadian Home Builders Association and many more
1. Drive Determines Distance
Lisa's Most Requested Keynote
If you are looking for an uplifting, motivating presentation that is more than just "feel" good this is it! Lisa will not only share heartbreaking and humorous stories to help audience members relate and connect with the key messages, she will also give concrete and effective takeaway strategies that can be implemented immediately that will serve to reignite personal drive and peak performance.
How Far Are You Willing to Go?
Lisa is a Peak Performance specialist and she will share her journey with you, how she went from a high handicap recreational adult golfer to being ranked second in the World and one of the longest hitters on the planet.
She will impart tips and insights about discovering what DRIVES you and how being clear and committed to that purpose determines how far you will go and what success you are able to achieve both personally and professionally.
Audiences Will Learn:
1. Intrinsic Motivation – Identifying what are you passionate about and what truly DRIVES you.
2. Goal Setting – Actionable strategies on how to set goals, challenge your limits and meet and exceed your targets.
3. Overcoming Obstacles – You WILL have setbacks and difficulties. Proven steps on how to persevere and thrive in challenging  and changing times.
4. Collaboration – Teamwork and communication are vital to success. Learn the value of surrounding yourself with people who support you and how to support others.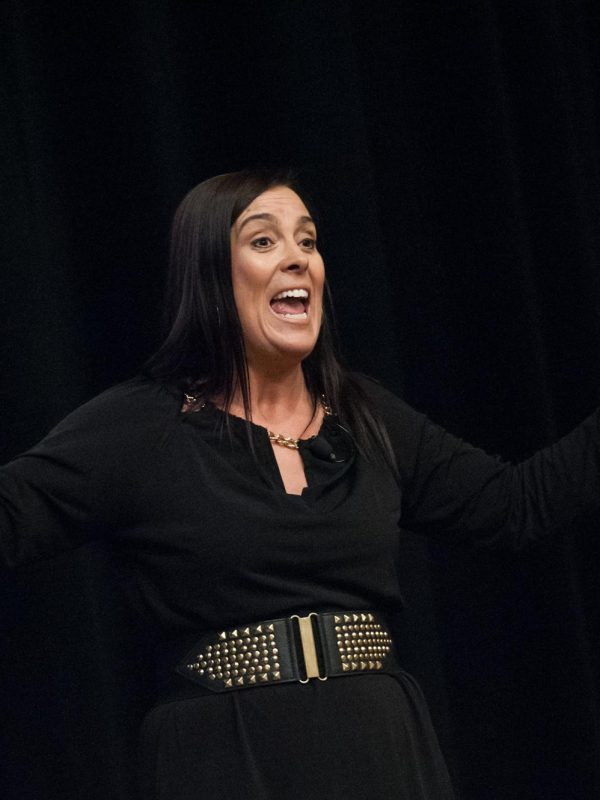 "Out of all of the speakers that we have engaged over the past number of years, I have never had so many individuals comment to me afterwards how much they enjoyed the key note segment.
Firstly Lisa's energy was infectious. She can't help but captivate the audience via her stage presence and her scary powerful swing. Her stories and messages were compelling to every person in the room which included: Millennials, seasoned employees and the upper echelon (GMs, VPs, Senior Account Managers) of our professional vendor community.  I was also impressed by the level of research that Lisa had undertaken prior to arriving at our Conference. She had taken the time to learn about our group, my personal leadership philosophy and the values that we pride ourselves upon as we build our Western Canada team business culture. She truly went above and beyond. Just fantastic!"
"Lisa was one of the Keynote Speakers at our National Conference this past November and she was absolutely one of the highlights of the event!  Lisa's energy and passion on the stage was infectious! I was extremely impressed with the research Lisa did on the event and the lengths that she went to personalize her presentation to connect with our audience.  Lisa was our first speaker of the conference and our delegates raved about her message and engagement with the audience for the rest of the conference. The standing ovation Lisa received was very well-deserved.  I would, without hesitation, highly recommend Lisa as a Keynote Speaker for any organization who is looking for a Speaker who will be entertaining, impactful and memorable."
2. E.M.P.O.W.E.R. Not Cower
Lisa's humorous, energetic and effervescent presentation style is contagious. After seeing Lisa audiences will be able to relate, will have that "ah-ha" moment and will own the 7 steps to making the decision to be successful. Make the first step today.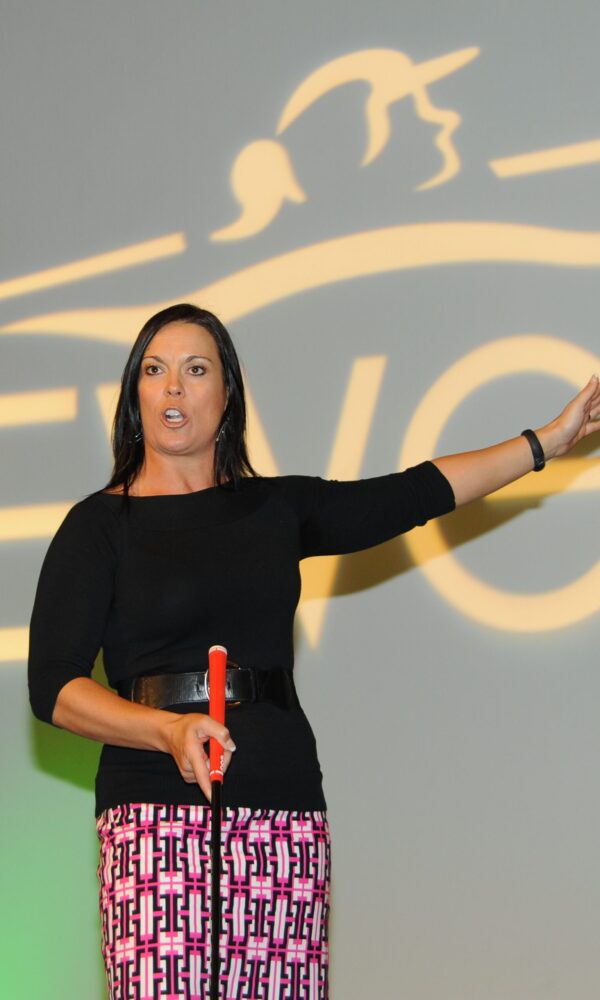 The 7 Tips to making the Decision to be Successful
We have 2 choices in every decision we make and the path we chose. We can either avoid change from fear or complacency or face it head-on.
The status quo starts to quickly become too easy to fall into and is not the only void of challenges but also runs the risk of becoming stagnant. Your business or your personal life cannot afford to become stagnant. If there is discontentment in one it affects both equally and negatively.
Lisa's keynote focuses on action and being decisive based on the word E.M.P.O.W.E.R. She will share countless tips and strategies to help audience members avoid some of the same pitfalls she experienced the hard way.
Lisa will give actionable advice on how to stay motivated, focused, healthy, resilient and successful.
Audiences Will Learn:
E – ENABLE: The definition of empower stands for enable or permit. Stop wishing and start working
M – MIXING MEN & WOMEN: Gender roles and communication play a huge part in the work place and in life. What you need to know.
P – PRESENCE: What image you put out there in person physically and via social media brands who you are, how you are viewed and the role you play in your organization. Handle it well
O – OWN: Stop blaming others for your situation. Fix it.
W – WOMEN: Dynamics between women in an organization or personally can be incredibly strong and positive or toxic. What you need to know.
E – EQUIP: What are your goals and what skills, advice, support do you need to make them happen? Are you doing it?
R – RESILIENT: You are going to have set backs. HOW you deal with them will determine if you grow or flounder
"Lisa 'Longball' was our keynote speaker and she took the time to really understand our business, who we are as a Credit Union and the goals of our program. She spent a lot of time preparing to ensure that the session was not only inspirational but also enjoyable. Lisa has amazing energy, a great sense of humour and has a very relevant and inspirational message to share. Lisa's program was much more than a 'motivational' speech on change. It was an inspirational, energizing, and thought-provoking session that provided us with unique insights to prepare our leaders for change, stay motivated and focus on our 'long' game. If you are looking for a speaker to ignite your team, I highly recommend Lisa!"
"WOW!!! What a great Opening Key Note speaker. The audience was not disappointed as we all watched Lisa's 'High Energy' presentation that kept everyone engaged, laughing and wanting more. What makes Lisa 'unique' from other Key Note speakers is her attention to detail. She did research on our organization and got to know a couple of our advisors and she incorporated this information in her presentation. She made it a point to interact with our advisors at every opportunity throughout the conference. Our advisors are still talking about how great she was.  Lisa's passion and energy for what she does is incredible and it shows not only her presentation but it is who she is as a person. I have recommended Lisa to other organizations and if you are considering hiring her and you need a reference, please contact me."
3. Golf as a Networking Skill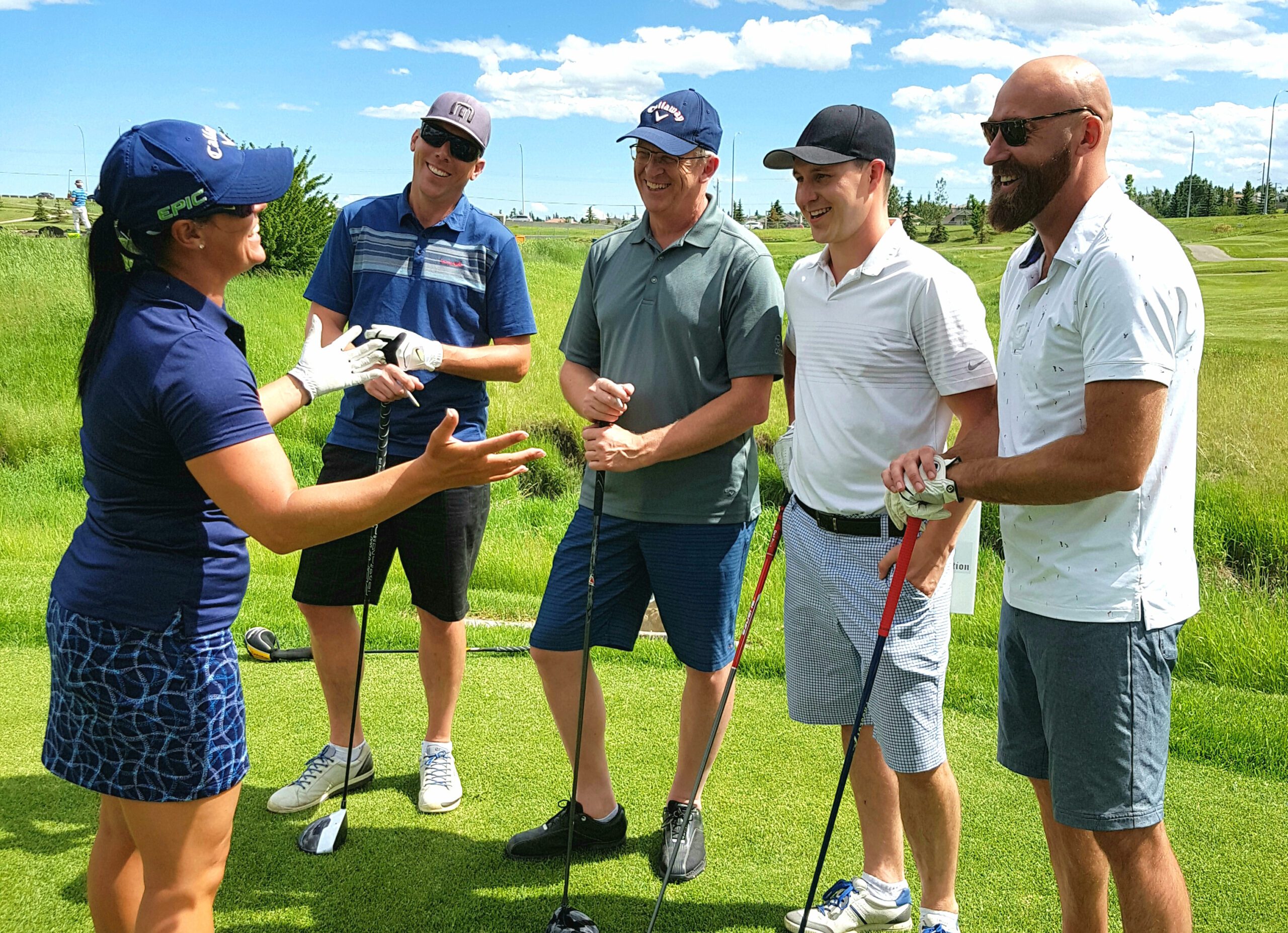 Are you invited to corporate and/or charity golf tournaments with clients, colleagues, customers or vendors? Do you take clients on the golf course for networking or customer appreciation rounds?
If so, this is a must-see breakout session. Lisa "Longball" Vlooswyk, 8-Time Canadian Long Drive Champion, will go over the "Top 10 Dos and Don'ts" for client golf to help you make the most of your networking time with your client and help promote future business.
I would like to formally thank you Lisa. Your keynote fit perfectly with our conference theme Peak Performance: Striving for Excellence. Conquering Barriers. Achieving Success. We thoroughly enjoyed the energy you brought to not only your keynote but to all of the interactions with your conference sponsor, delegates, and other speakers. You were truly a highlight for the conference and we were extremely appreciative of everything you did to customize your presentation for our audience and the extra time you spent at the event. Thank you for helping make our event such a success.
"The experience we had with Lisa was exceptional. She took the time to truly understand our objectives and personalized the content and delivery to ensure it resonated with our audience. Not only did she bring tremendous credibility and golf expertise, but it was her passion, energy, enthusiasm and ability to connect with the audience in such a fun way that really made our program a success. She leveraged her personal story to demonstrate how 'drive determines distance'; taught us about business & golf etiquette on the course, and gave us great tips on how to improve our golf game. The feedback we received from clients, partners and employees on Lisa was incredible! I highly recommend Lisa as a professional speaker, golf coach and consider her a friend that I'm blessed to have met."
4. Golf Instruction From the Stage
Impress Your Clients and Customers on the Course!
This is a once in a life time experience to learn golf tips, tricks and techniques from Lisa "Longball" Vlooswyk", an 8-time Canadian Long Drive Champion.
Golf is a key business and networking skill along with a great active living, family, and social sport. Four and half hours on the course with your client, customer, or colleague is far more valuable than a business lunch and will help build and solidify your key business relationships.
People do business with people they know, like, and trust. After a round on the course there are always, stories and laughs to be shared in the clubhouse in turn developing your working relationship.
Lisa will conduct an entertaining and educational swing clinic from the stage (no golf course required) that will guarantee all audience members from beginners to single digit handicaps to have takeaways to help them improve their game immediately. Feeling more confident on the golf course will lead to accepting or extending more business golf invitations.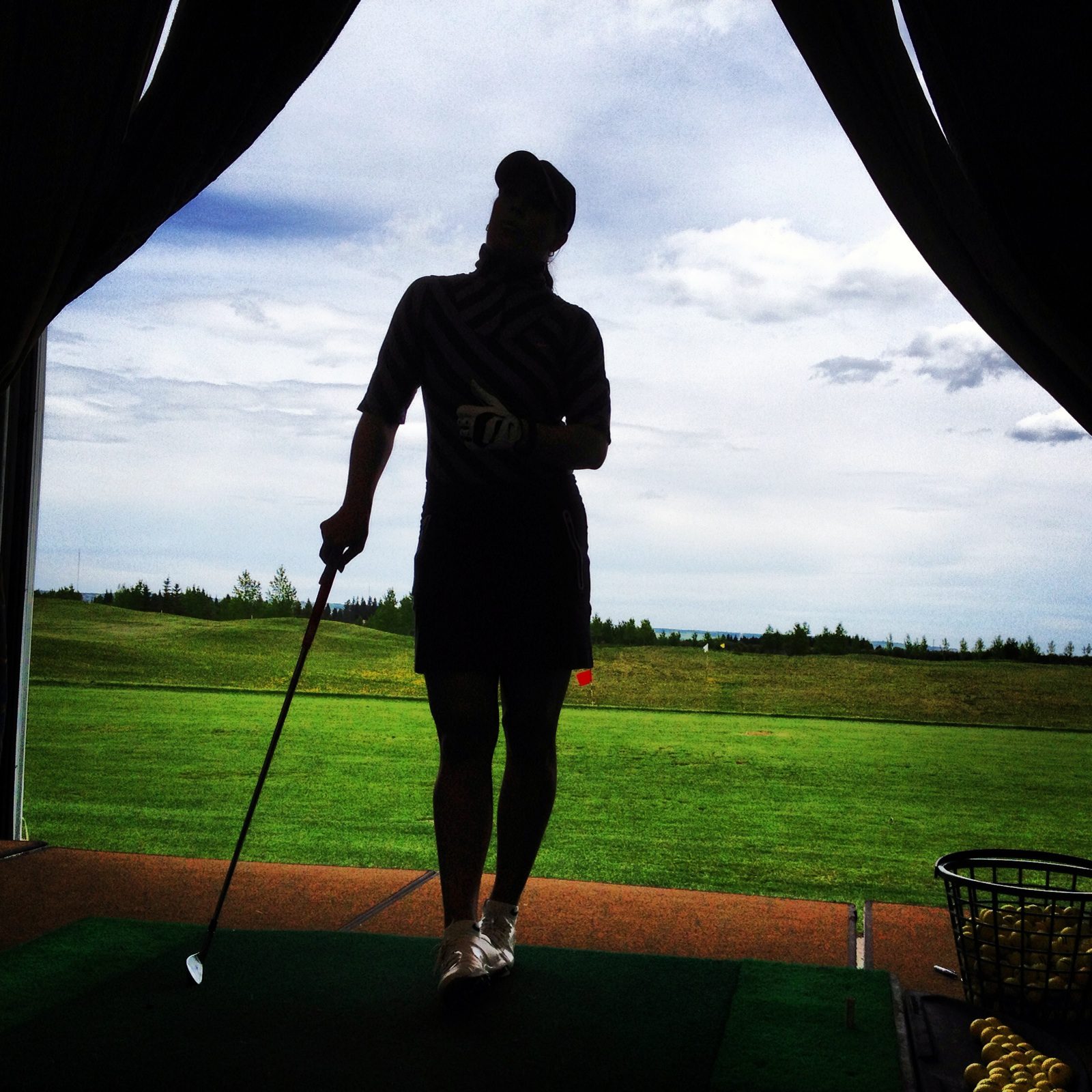 "We were fortunate enough to secure Lisa 'Longball' as a keynote speaker as part of our annual company Kickoff. It was clear we had made the right decision from our first interaction with Lisa. She was beyond committed to integrating herself right into our Corporate Culture from the moment she said hello! Lisa's presentation style exuberates energy, comedy, sincerity and passion. She did her research and took the time to truly understand her audience, resulting in a keynote like no other. Lisa's effective connection with our staff quickly dubbed her as part of our corporate family, a fellow "Prontonian." Her key note was such a success, that we reached out a second time requesting that she turn her key note into a virtual golf clinic as part of our 20th year celebration! To no surprise, her vivacious personality drew staff right in for the back nine! We are truly honored to have Lisa as a fellow Prontonian. If you are looking for a spirited, yet impactful guest speaker, I would jump on Lisa right away!"
"We wanted to start our New Year with a bang and we did just that with Lisa "Longball". We found Lisa to be passionate, inspirational and entertaining! Our attendees couldn't say enough about how amazing she was! Lisa's message of staying focused, perseverance, goal setting fit right into our Mortgage business world and our personal lives. Denis and I would highly recommend Lisa as a keynote speaker."
5. On the Course with Convention Attendees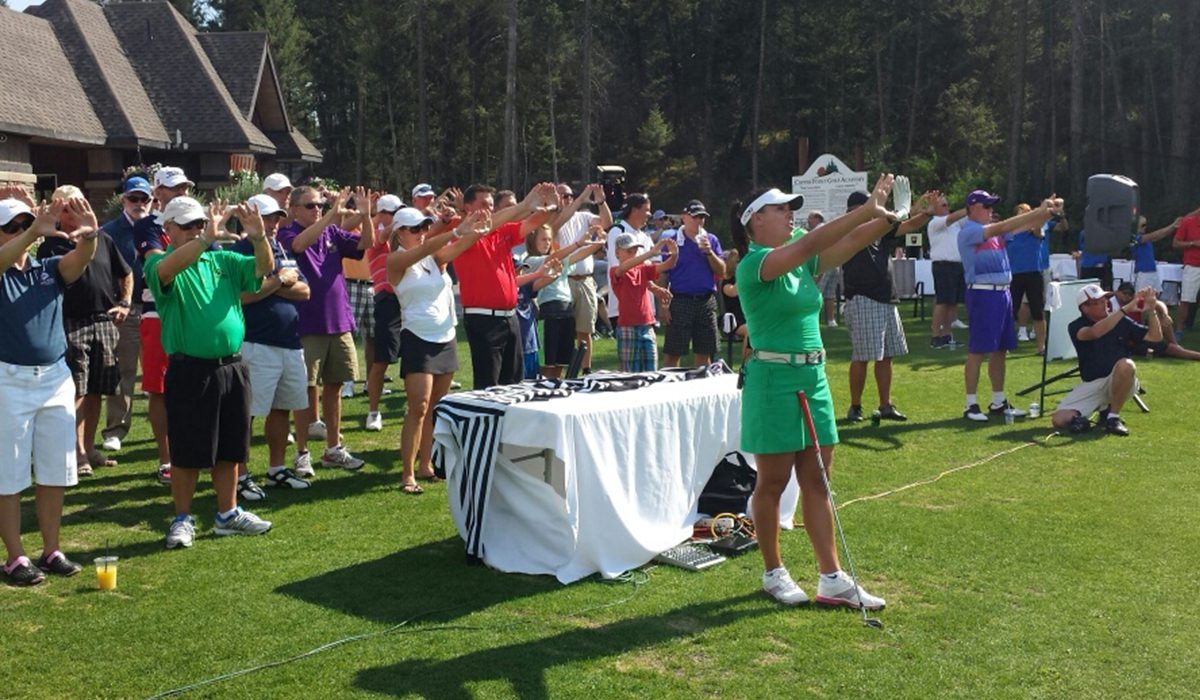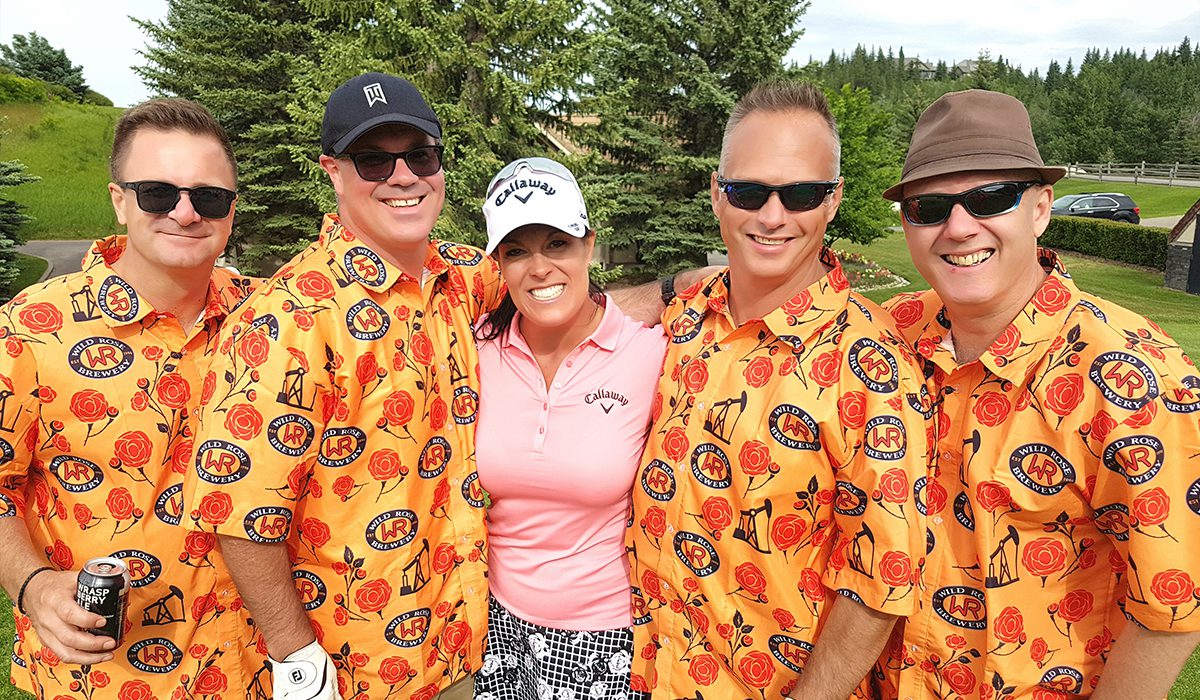 An 8-Time Canadian Long Drive Champion, Lisa "Longball" Vlooswyk will give a one hour Power Tips Clinic to attendees.
Lisa has performed this clinic on the PGA Tour and Champions' Tour to rave reviews. It is fun, entertaining and most importantly, educational. Lisa will offer a boat load of tips, tricks and techniques to not only improve your game but also add distance to your drives.
Beginner golfers to single digit handicap players will all find valuable takeaways that will immediately improve their game. Lisa will provide a valuable Tip Sheet for attendees to take home to review the top tips from the clinic. This is a clinic your attendees will be talking about long after the conference is over.
Golf Entertainment on the Course
In addition to Lisa's Power Tips Clinic, she can be stationed on a par 5 hole on the course if there are a large number of attendees playing. Guests can use Lisa's drive to help set up for a birdie or eagle opportunity. They will have a chance to meet and chat with Lisa, and ask her swing questions in addition to watching her world-class drive.  Alternately, if there are a smaller number of guests Lisa could play a hole with each foursome and give tips to each guest. If there is a major sponsor, Lisa could also play all 18 holes with key players, offering a once in a lifetime experience to play with a professional world class golfer.
"The audience was spellbound with her enthusiasm, humor, inspiration and phenomenal delivery skills. She is a joy to work with and when she comes to an event to present she is not an in and out presenter. She wants to be an integral part of the event experience…she will be the talk of the event!" "We recommend Lisa as a keynote presenter if you are looking for motivational messages, have a golf component within your program, because she gives a tremendous golf exhibition as well, or if you are seeking to share and showcase an individual who has set goals, is driven and has concrete achievements to showcase due to determination and hard work."
"The audience was captivated by Lisa's engaging personality, inspiring character and outstandingly humorous storytelling. Lisa has the unique gift of enabling every one in the audience to feel instantly at home with her, while inspiring each person to see him /herself in her story. As Lisa winds her anecdotal series of pictures and stories, the audience becomes spellbound in the exhilarating thrill of competition and the humility of victory. I would recommend Lisa to any gathering which is hoping to be inspired by real life events as told by a true champion. This is true for men and women, old and young, professional or personal. Lisa is truly a gift for any audience."
Lisa's keynotes are typically 60 minutes but can be modified to meet shorter or longer time frames. Titles & content can also be changed to fit the theme of your event. Book Lisa Longball as your KEYNOTE SPEAKER or GOLF ENTERTAINER for your Corporate, Charity or Golf Event.
Book Lisa Longball
As your KEYNOTE SPEAKER or GOLF ENTERTAINER for your Corporate, Charity or Golf Event.
Lisa is also available for BRAND SPONSORSHIP discussions, and PRESS INTERVIEWS.
Contact Lisa About Your Event