Lisa Longball Instructional Videos
ARE YOU READY TO SHAVE 6 STROKES OFF YOUR GAME?
Lisa has taught thousands of golfers across North America how to add distance to every club in their bag!
Now you can learn from Lisa anytime, anywhere with her new instructional video of Top 10 Tips to a Longer & Straighter Game.
Take her everywhere you go – on your computer or smartphone. This Video is also the perfect GIFT for the Golfer in your Life!
SIMPLE & EASY LESSONS ON YOUR DESKTOP, SMARTPHONE AND TABLET
Lisa has been asked countless times what her SECRET is to hitting the ball SO far!?
Get your COPY NOW and learn all of her tricks, tips and techniques.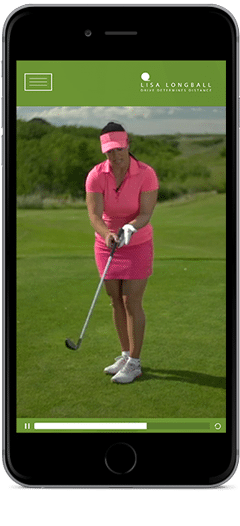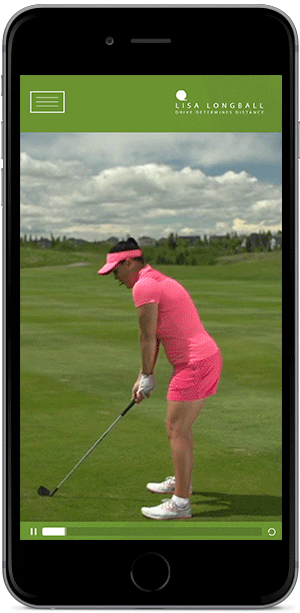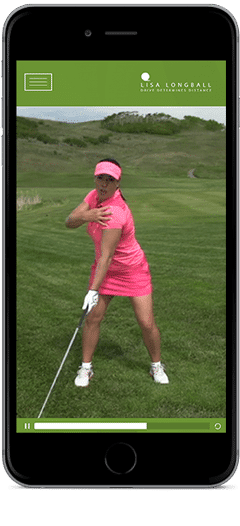 LEARNING THE SECRETS TO HITTING THE BALL
LONGER, STRAIGHTER & BETTER
For less than the price of a dozen premier golf balls, you can have a complete program of golf instruction from a World Class Long Drive Champion, Lisa Longball.  A MUST HAVE for golfers of all skill levels.  Whether you are a high handicap recreational player or sporting a single digit, these 10 short coaching videos will help you make dramatic improvements to your golf swing and game!
LESSON 1:
Warm Up
Lisa demonstrates 10 easy exercises she does to help gain flexibility and prevent injury every time before she tees it up.
LESSON 2:
Grip
Lisa shows you the importance of a proper grip, the different types of grips and a simple way to ensue you always grip the club correctly.
LESSON 3:
Posture
Your posture could be causing you to lose 20 yards.  This is one of the most neglected parts of the swing.  Lisa will teach you an easy 4 step process to perfect posture.
LESSON 4:
Stance & Ball Position
Lisa demonstrates easy to follow stance and ball position guidelines to help you strike the ball more consistently and effectively.
LESSON 5:
Pick a Target
Do you know which eye is your dominant eye?  Do you use an intermediate target? Lisa will show you how understanding and using both will lead to more on line shots.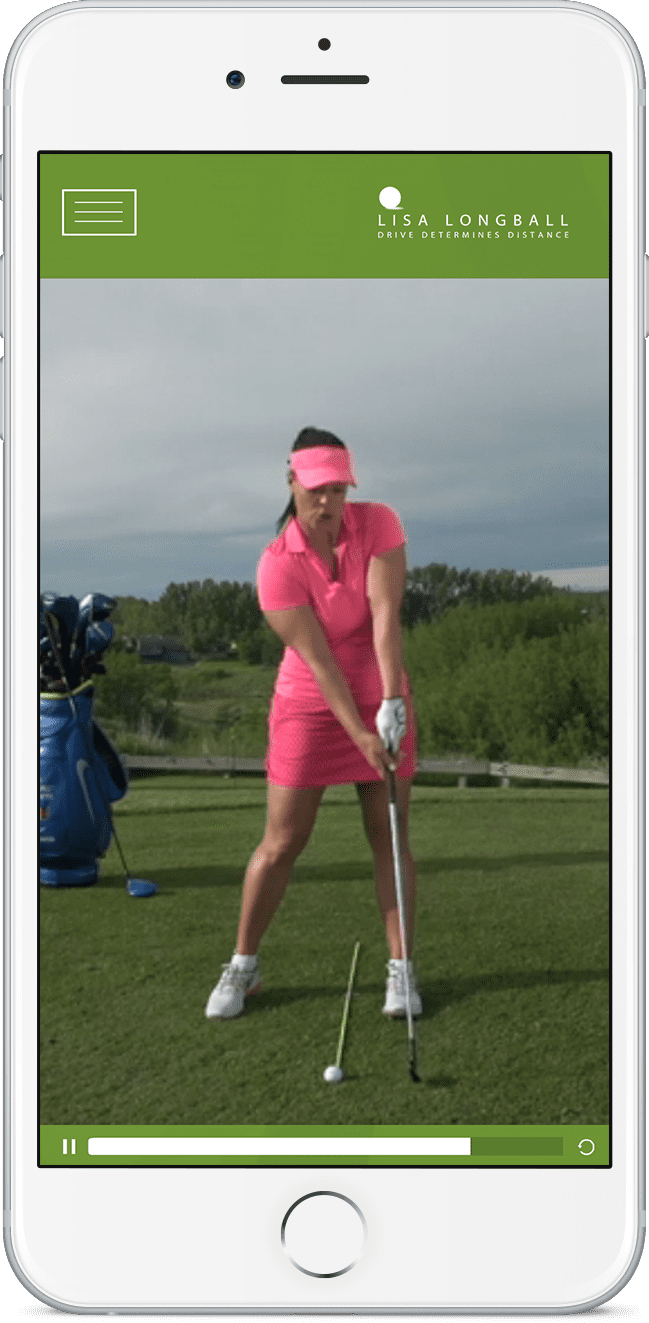 BONUS
Bloopers
Even the professionals make the odd mistakes, and sometimes they are not so odd.  See some of the outtakes and bloopers made during the filming of these videos.
LESSON 6:
Make a Good Turn
Lisa shows the importance of a good turn, and why all golfers turn differently. Lisa teaches techniques to help improve your turn and your power.
LESSON 7:
Swing Through & Finish
Lisa explains the importance of your down swing and how to swing through the ball to get distance like never before.
LESSON 8:
Stopping the Slice
Lisa helps explain the many reasons why golfers slice the ball.  She will show you what most golfers do wrong, and how to simple ways to fix it and stop your slice.
LESSON 9:
Common Swing Faults
Lisa helps you understand the common swing faults and myths.  Her easy tips on how to change your swing to the ball longer, straighter and better.
LESSON 10:
Cool Tips
After spending countless hours on the course, years playing golf, and winning 8 National Long Drive Championships, Lisa shares some of the cool tips she has learned along the way.
the perfect gift for you or your favourite golfer
You can only give so many sleeves of golf balls or custom engraved ball markers as gifts.  Why don't you give your favourite golfer something they can really use: the gift of a better golf game with the 8-Time Canadian Long Drive National Champion, Lisa Longball's must-have tips and tricks, right at your fingertips.
Buy Your Copy Now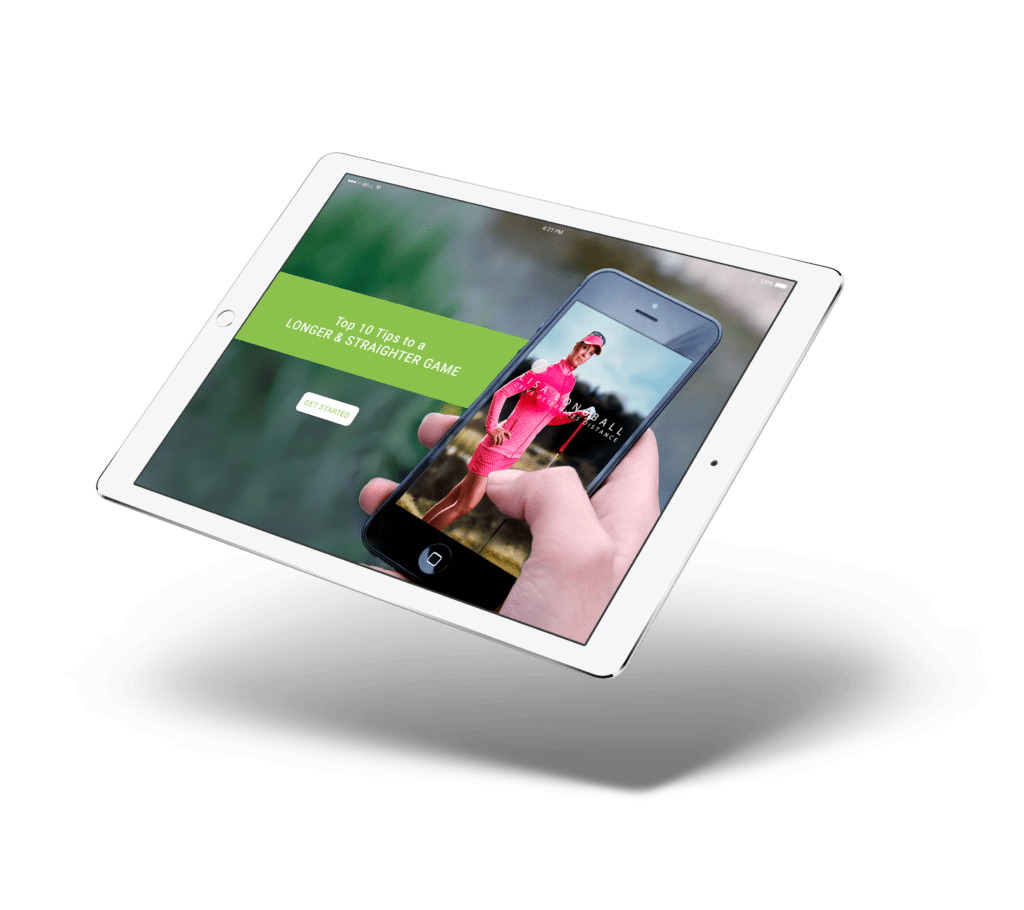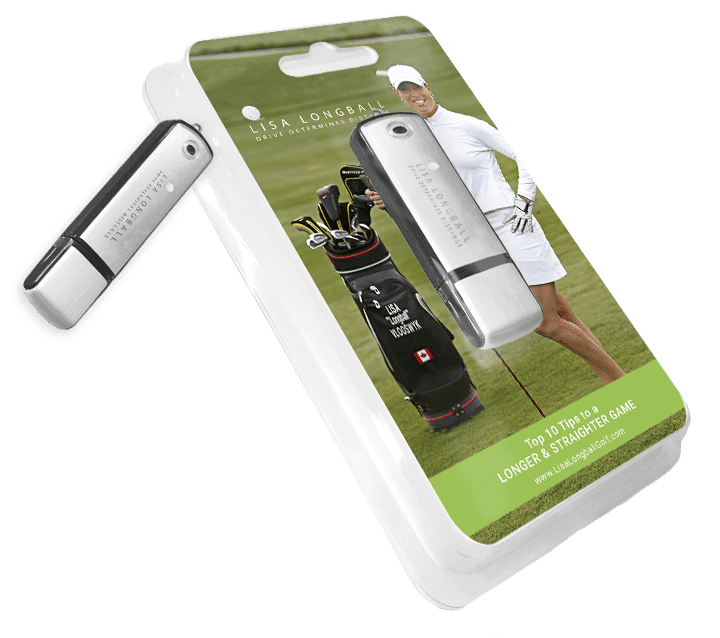 NEED A CORPORATE GIVE-AWAY?

Skip the customized pens and coffee mugs.  Give your clients, customers and employees the gift that keeps on giving.  Lisa's easy to follow instruction will help all golfers maximize their swing and minimize their mistakes helping them to impress their friends and family on the course and their playing partners the next time they tee it up at a Corporate or Charity golf outing.
Contact Lisa for a Quote to have your CORPORATE LOGO added to a USB stick with Lisa's Video Lessons on it for your Corporate Giveaway, Client Appreciation Gift or Tee Gift for guests at your Golf Tournament.
Contact Lisa for Your Quote
Book Lisa Longball
As your KEYNOTE SPEAKER or GOLF ENTERTAINER for your Corporate, Charity or Golf Event.
Lisa is also available for BRAND SPONSORSHIP discussions, and PRESS INTERVIEWS.
Contact Lisa About Your Event